HI AGAIN!
dont get too bored of me yea.
Few weeks ago me and Mr Kimbarley got invited by Razor TV for a private launch party to try out Xbox's newest toy - The Kinect!
If you havent heard of it before, this is how it looks like.
It kinda works like a mix between a camera and a scanner which is able to interpret your actions or spoken commands without the need for a controller.
so for example if you are doing kungfu, your virtual self does kungfu too.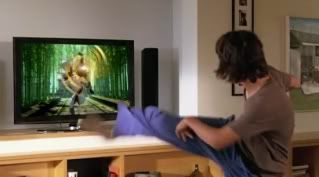 .
.
.
.
Check out the video below!
pardon our unrehearsed answers =D
and it was cool to see our back views LOL
Special Shoutouts to Razor TV for this unique opportunity and also Xbox for surprising us again!